Think document management software is too expensive,
THINK AGAIN
ConDoc - Simple, Intuitive, Affordable.
Does your documentation management
method do this?

Automatic Plan Management with Full Versioning and Markup

RFI and Submittal Management with Custom Workflows

Provide Organized Access to your Project Details and Photos

Make Team Collaboration Easy

Show Real-time Updates with Email Notifications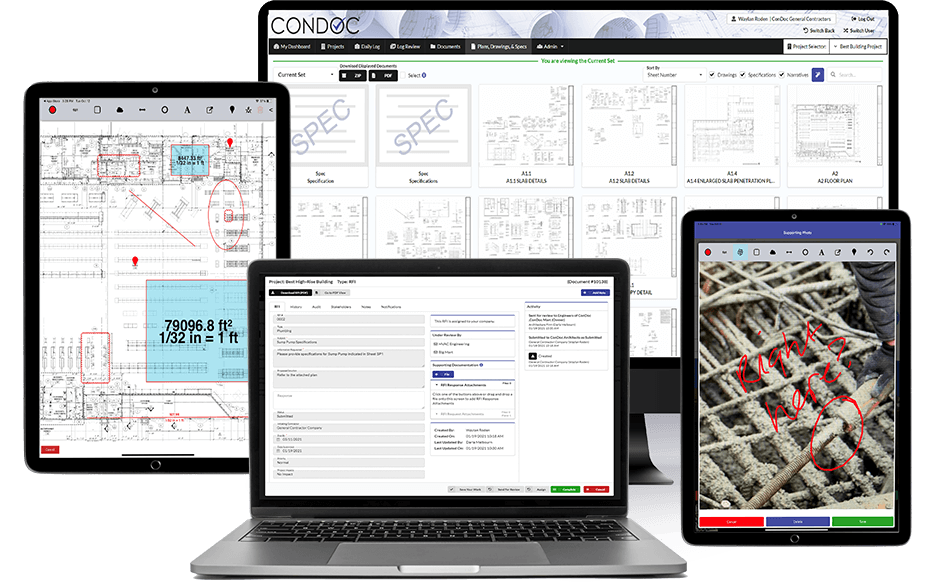 ConDoc Does. Don't just store your Construction Documents,
MANAGE them!

Keep everyone on the current set with full version control. Easily create markup, takeoffs, notes, and link to documents. Available to your entire project team, field to office, on or offline.

Keep all of your project documentation organized and in one plance. Streamline and audit document workflows, approvals and response times. Organize your RFIs, Submittals, Change Orders, Punchlists, Photos, Videos, and more.

Eliminate risks and disputes from the jobsite. Capture important project data in real time by logging daily reports.

Design Collaboration
Enhance communication between PMs, Architects, Engineers, and Consultants. Access, compare, and markup crucial project documents anytime, anywhere.